BrewMonitor: Real-Time, Comprehensive Fermentation Monitoring
Discover New Levels of Control and Success with Data-Driven Fermentation

The BrewMonitor™ System, from Precision Fermentation, is a real-time, end-to-end fermentation monitoring and analysis solution, that is purpose-built to enable brewers to increase quality and profitability through greatly enhanced fermentation-process control. The BrewMonitor System brings the "Internet of Things" (IoT) to the brewing process by collecting fermentation data from your existing tanks, and streaming it to your PC, tablet or smartphone, in real-time.
The BrewMonitor System's pre-built dashboards transform your fermentation tanks into a powerhouse of insight that finally puts brewing control into your hands – ensuring brewed-product quality, increasing your production options, and saving you time and money.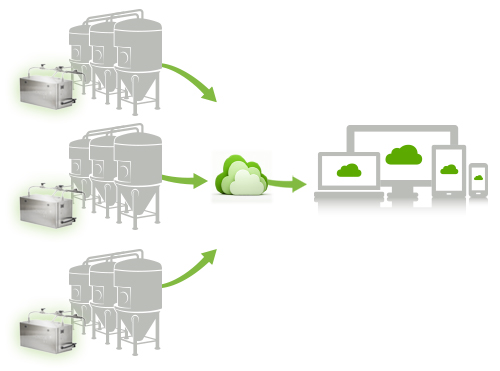 The BrewMonitor System: Comprehensive fermentation data streamed to any device.
BrewMonitor X-1
Proprietary device (patent pending), retro-fitted to each existing fermentation tank
High-density sampling
Multi-sensor array reports real time data via cloud
Easy to clean
BrewMonitor Console
Easy-to-use fermentation monitoring software to access real-time data, manage fermentation settings and manage the use of the BrewMonitor X-1 device
Fully SaaS-based – no software to install
Access fermentation status anytime, from any web-enabled PC, tablet or phone
Complete visibility into fermentation data and trends, in real-time
Automatically triggered email alerts based on custom thresholds, notifying about problems with:

pH
Gravity
Pressure
Conductivity
Dissolved Oxygen
Temperature (internal/external)
Fermentation Monitoring in High-Resolution – Real-Time Data & Analytics

Download BrewMonitor Product Sheet
Solve Brewing Problems
Fermentation failures

Demand outstripping production

Quality control issues

Ensured consistency and reproducibility

Shrinking profits

Lack of data
Increase:
Consistency

Reproducibility

Efficiency

Profitability
Avoid:
x Major capital investment
x Additional labor
x Equipment purchases
x Facility expansion
Get BrewMonitor Email Updates